VOLUME 2 | ISSUE 9 | MAY 2023
It's been awhile since our last newsletter but we are back for the month of May! When deciding what topic to highlight we often look at the monthly observances. I decided on one I wanted to highlight for this month, changed it, and then changed it again. So, instead of choosing I thought I'd mention several observances that drew my attention. The reason? Because all of these topics and issues are improved by spending time in nature! I apologize in advance if I left off some of your passionate issues but that doesn't mean they aren't important.

May monthly observances include Mental Health awareness month, Arthritis Awareness month, Better Sleep month, Women's Health Care month, National Walking month, and Military Appreciation month. It also includes special days, such Mother's Day, Love a Tree Day and Take your Parents to the Playground Day. I would be remiss not to include Lost Sock Memorial Day on May 9.
One of the many beauties of nature is that it can benefit people in many different ways and there are studies that provide evidence. Mental Health issues affect so many of us. According to NIMH, approximately 26% of U.S. adults suffer from a mental health disorder. Numerous articles demonstrate that spending time outdoors reduces stress, anxiety, and symptoms and development of depression. A large study conducted in England showed that people who spent at least 120 minutes a week outside had a greater sense of well being. Spending time outdoors also improves sleep, which affects us in many ways, including our mental health and weight. In a cohort of 329 employees who filled nature prescriptions in Salt Lake County, almost half reported enhanced sleep.
Spending time outdoors also improves women's health on both ends of the age spectrum. It is associated with a decreased risk of SGA (small for gestational age) infants and improved pregnancy outcomes, and increased physical activity. Walking is a great exercise for women with osteoporosis and other types of arthritis who are unable to do other forms of exercise (see how I rolled 3 observances into one here!).

May is the very important Military Appreciation Month - thank you to all who have served for our country. We recognize that serving is a sacrifice and many who have served return at increased risk of developing PTSD and other disorders. Numerous programs have been developed using outdoors to treat or ameliorate PTSD. A study by Bettman et al. published in 2021 found that time outdoors correlated with participants' decreased PTSD symptomology, and also that the more time participants spent outdoors, the greater the reduction in PTSD symptoms.

How does nature help with that lost sock? Can't help you with that one!

Patient of the Month: Jocelyn
If you haven't seen this video on our website, in observance of Mental Health Awareness month, we'd like to introduce you to it. "The noise of all the chatter in Jocelyn's life, all the pressures, all the stresses, and all the expectations have taken a toll on her health and well-being. Discover how she is transformed by the movement she experiences in her stillness and how she learns how to TakeCare through nature."
Walk and Talk Therapy,
by Jennifer Udler, LCSW-C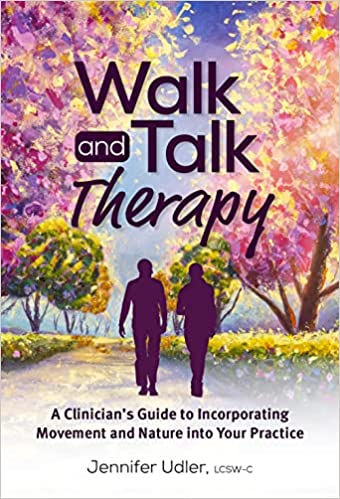 My new book,
Walk and Talk Therapy
, is now
available for pre-order
! When I began my walk and talk practice 10 years ago, I started it on a whim, feeling that walking outdoors would be a compelling way to practice therapy. That instinct proved to be true and over the years I have grown to understand why this was working. Over the past two years of putting in the efforts to research, write, and edit this book, I have asked myself why? The answer is easy. To share knowledge.
Keeping in mind the secondary trauma of caring for others, please take the time you need to recover and consider a dose of nature for yourself.
Robert Zarr, MD, MPH
Founder & Medical Director
Stacy Beller Stryer, MD
Associate Medical Director